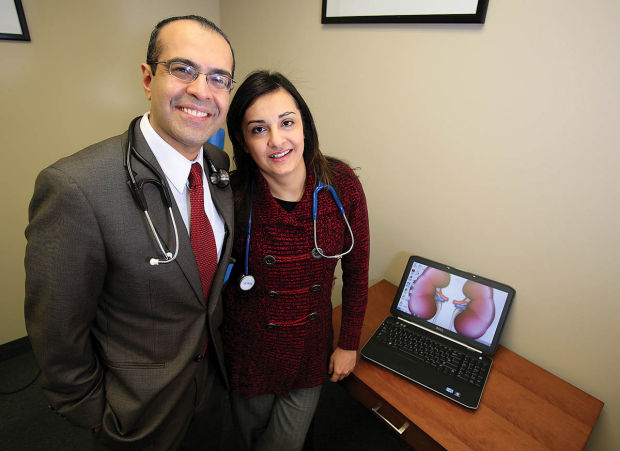 Article featured on MagicValley.com on 02/27/2013
Written by  JULIE WOOTON • TIMES-NEWS
Photograph by ASHLEY SMITH • TIMES-NEWS, doctor all rights reserved
TWIN FALLS • After six months in Twin Falls,  Drs. Haroon and Lubna Rashid have just a few months to go before their new office and dialysis center opens.
The husband-wife team — both certified in nephrology and internal medicine — opened a private practice office in August after relocating from New Jersey.
Currently, they're renting medical office space on Morrison Street from another independent physician. But soon, they'll have a new office to call their own.
"Ultimately, our goal was to have our own dialysis office," Haroon said.
Their new office and dialysis center — which opens in May — is under construction. It's located on North Haven Drive next to Norco and close to St. Luke's Magic Valley Medical Center.
Before moving to Twin Falls, the Rashids lived in Jersey City, N.J. — just across the river from New York City.
In the New York City metropolitan area, Haroon said there's a lot of competition among medical practices and people to appease.
It meant long hours at work and not as much time with his family.
"It was cutting into my life at home," Haroon said.
The Rashids have two daughters, ages 6 and 12.
Haroon knew he couldn't continue that way of life forever, he said, or he'd miss out on seeing his daughters grow up.
Also, Haroon and Lubna were working in separate private practices. The situation wasn't right for them, Haroon said.
A few of their friends living in Boise and Pocatello suggested they should come to Idaho to look around. They made a few stops during the trip, including in Twin Falls.
Haroon said they enjoyed the family-friendly environment in Twin Falls and liked the school their children toured.
Another large consideration was the need for nephrology sub-specialists in the area. They discovered there was an opportunity to fill a gap, Haroon said.
It was also an opportunity for the couple to start a practice together and have more control over their work hours.
Haroon and Lubna are independent physicians, but have hospital privileges at St. Luke's Magic Valley, Cassia Regional Medical Center in Burley and North Canyon Medical Center in Gooding.
Until their new office and dialysis center opens up, they also have privileges at the DaVita TwinFalls Dialysis Center for their patients who receive dialysis.
Since opening their doors, the husband-wife team has visited doctor's offices to introduce themselves and let other physicians know that they're available for patient referrals.
"There's been a good influx of patients," Haroon said. He anticipates there will be more referrals as they become more established in Twin Falls.
They've also lectured at senior centers in the area and visited with those in attendance.
Both Haroon and Lubna are internal medicine doctors who are sub-specialists in nephrology. They're board-certified in nephrology and internal medicine.
Their specialties includes chronic kidney disease, hypertension, kidney stone disease, end stage renal disease, electrolyte disorders and renal transplant.
Lubna said patients are referred from other doctors, but people can also call them directly if they know they have kidney disease.
The doctors are on call 24 hours a day. If someone calls once the office is closed, the Rashids are available on their cell phones.
Once open, their dialysis center will be just the third active in south-central Idaho. DaVita also operates a center in Burley.
In addition to their Twin Falls location, Haroon and Lubna also provide kidney care at North Canyon Medical Center once a month.
"The community just really needed that," Haroon said.